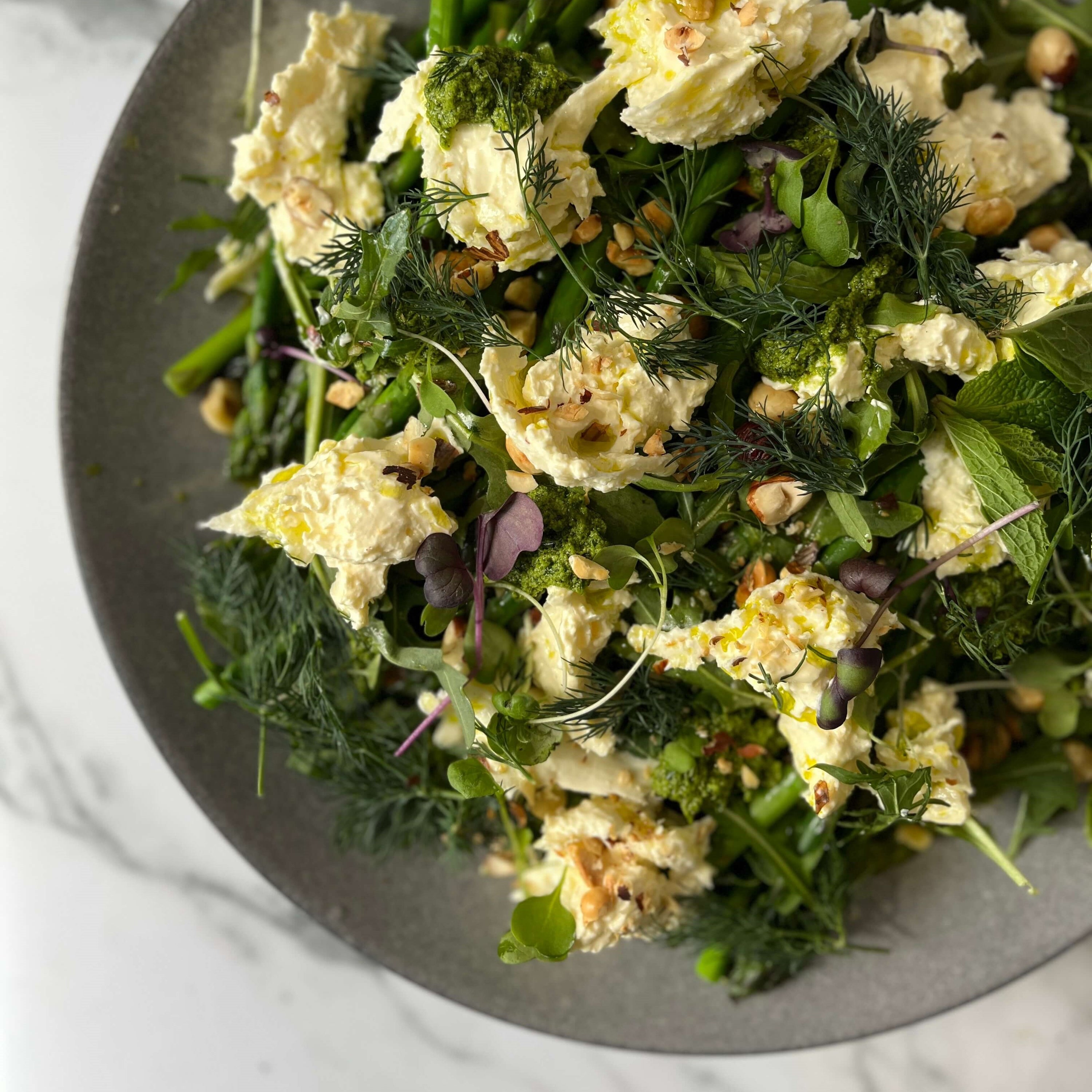 Asparagus, Hazelnut And Burrata Salad
ORDER NOTICE: 3 Days
DESCRIPTION
Asparagus, hazelnut pesto, burrata, pea & soft herb salad
INGREDIENTS
Local asparagus, burrata, garlic, rocket, basil, olive oil, hazelnut, parmesan, lemon zest, pangrattato (lemon, garlic & parsley)

DIETARY
Vegetarian / gluten free / contain dairy / contain nuts

Due to shared equipment from our suppliers and in our kitchen, this product may contain traces of NUTS. Please advise of any allergies when placing your order so extra care can be taken and we can provide a further breakdown of decoration ingredients, etc.
Asparagus, Hazelnut And Burrata Salad
FAQ
How big are your salad boxes?
Our layer cakes range from 5 to 9 inches in diameter, depending on the serving size. Each one of our delicious creations is layered with 3 layers of butter cake, which are then sandwiched with luscious buttercream and a variety of different fillings.
I need to cater to a large group - can you help?
Our salads & proteins availlable to purchase directly on our website have been designed for small gatherings, with minimum heating or preparation requirements.
For larger events, please browse our full catering menu or contact us directly to help design a menu.
View our full catering menu here.
I have a dietary requirement.
We offer gluten free as well as nuts free, dairy free, vegetarian and vegan options and are happy to work with you to develop further flavours to suit your dietary requirements.
Dietary requirement is menitioned in the product description of each items.
How many salads & proteins are you suggesting ?
Our suggestions are based on the style and timeframe of the function.
If you are hosting a seated lunch or dinner, we recommend 2-3 salads and 1-2 proteins per person.
For a larger style event such as a cocktail party or grazing table, we recomend 4-5 salads et 2-3 proteins per person.
Shipping
Collection
All cake orders can be collected from 9am at our store in Malvern. Please ensure you have your order number ready on collection.
Please be aware that your cake will not be ready prior to your selected collection time.
Delivery
Delivery is offered Monday through to Sunday. For all orders within 10km, we charge a flat fee of $30 per delivery.
For any requests over 10km, we will calculate a fee based on the recipient's address.
Two delivery slots are available for you to choose from. We suggest choosing a delivery timeframe that is closest to your eating time.
Handling, storage and serving suggestion
Handling
All our salads & proteins are delivered in sealed boxes.
If you are collecting your cake from Millstone, we recommend placing the cake on a flat surface of the car. On arrival, please ensure the cake is stored in the fridge.
Storage
All of our Butter layer cakes, are best eaten at room temperature. As such, we recommend removing them from the fridge at least 2 hours prior to serving and cutting.
For all other Millstone cakes, eat straight from the fridge.
Size/Serving
For all items requiring to be warmed up before serving, some heating and serving instructions are available on our website for to help you on the day:
View preparation, heating & serving instructionshere.
Order notice period
ORDER NOTICE: 3 Days (72hrs)
If you are out of the notice window, please contact us.
We will do our best to confirm whether your order is possible ASAP.
Please dont place your order before confirmation as a non-refundable banking fee will be deducted from your original order.